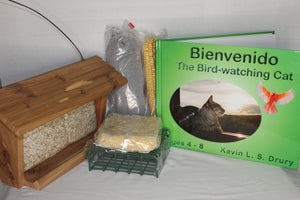 This package includes the popular story, Bienvenido, the Bird-watching Cat, along with our Backyard Bird Feeding Kit.  The combination allows families and classrooms to recreate scenes from the story outside their own windows.  
Bienvenido, the Bird-watching Cat is hardback with 72 heavy-weight, glossy pages with 160 high resolution photos of birds and animals. Bienvenido, an indoor cat, introduces common backyard birds to the feeders in his yard, and "welcomes" each, with their diversity of colors, shapes, sizes, and feeding habits. 
The author is a Professor of Mathematics and a life-long nature lover besides. The story is crafted around research-backed learning strategies. The overall approach is inquiry-based (Bienvenido's motto is Explore Curiously!), with ample opportunities for differentiation (e.g., there is plenty for everyone ages 4-8), developing associations, retrieval practice, and counting (for our younger readers). We use visualization of both desirable and undesirable behaviors, and associate one with each new backyard visitor.
Our bird feeding kit includes:
3 types of bird feeders
several weeks worth of food for each feeder*
corn for furry visitors
For details about the feeders, and bird foods, click here.